This course is perfect for all security personal, postal workers in fact any company or business that interacts with the public on a every day to day placing.
The recent changes to the Occupational Health and Safety Act have imposed very stringent obligations on employers to provide not only a safe workplace for all employees but the onus to be able to demonstrate that they have taken all appropriate actions to mitigate against the risk of injury to their employees. Not to mention the cut back on leave associated with stress or injury which may have been caused from an incident.
At times employees are often faced with scenarios that call for serious tactical decisions—yet they receive little or no training in these important issues.
Security Guest Speaker: 2015 and 2018 I was invited to present my paper for Charles Stuart University/Rabdan Academy International Policing and Security Conference, 1-6 Nov 2015, held at Abu Dhabi, and 2018 in Sydney Dolton House. The paper was part of the conference topic: Safety and Security in a Challenging World. My paper emphasised the need for improved integration of the various security levels and providers, with special reference to the police force and the security industry. On the advice of Charles Sturt University, the paper was submitted for publication in the Salus journal A Journal of Professional Practice and Research, 9(1), pp.3-5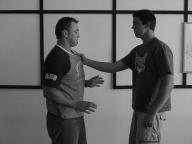 This Training course on offer is about learning to apply psychology to deflect an aggressor / attacker and gaining a position where restraint and confrontation can be minimised or avoided, with psychology management & restraint skills applied.
Target Areas of personal safety training: Identifying behaviors, Identifying Risks, Problem solving with angry citizens.
Learning to manage & control conflict areas. 
Avoiding injury
Gain self-confidence & motivation. Reduces fear, and reduces one`s victim potential, which in turn creates a better & much safer working industry.
COURSE CONTENT
This course covers a range of competencies at AQF level I, II, and III, in traditional training, from profiling behaviors to self management in psychology (lecture), aggression, Intimidation, identify behavior's, first aid reports,self control principles of basic defense & testing.

COURSE COST These qualification's are payable $150 pp for the 1 day course with a statement of completion or if have completed the 1 day course you can complete the 4 hr revised course for $90, with a certificate of participation pending on numbers attending training. Discounts given to large groups. Deposit is required 3 weeks before training commence.

Payment includes:
New risk prevention information training.
Professional study booklet in class training.
Participation Certificate.
Live Practical hands on training
For more information please send a email us