I am proud to introduce to you a series of specialist defense techniques compiled together by me to meet the specific needs of all junior,senior & graded NRL clubs.Player development is essential for NRL players to know, their safety is the league's responsibility to train and educate how to fall,roll & of course tackle safely.
My personal services have been the bench mark for several Carlton clubs on the south coast,teams benefiting from my program are were thirroual butchers,(who went on to the grand final 05 & 06) Port-kembla who went on to 2 grand finals 09&10) and more recently the St George Illawarra dragons who had some players take part in my program who are now grand finalist and have the best defensive record in the NRL, what they learn t obviously filtered back down to the other players.
I now have a new updated L1 online course developed for effective methods of tackling and drills. For any coach or club that wishes to take part please let me know. 0412729938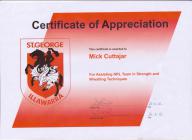 My program is simple and a must for developing player techniques in rolls,falls & take-down this has proven to reduce the risk of injury.I have been throwing players on their back for 35yrs at National & international level even making the Olympic team as a reserve.I have also played NRL so i know what you want and need.
My job is to re-educate your players in their defensive techniques to minimize injury,slow the play down & most importantly winning the game. We also understand that sponsors needs to achieve at such levels must be met.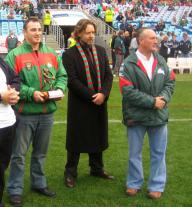 My style of training athletes to use hip pivots,roll,fall & use specialised take-downs has improved the defensive game & lifted it to new heights.We provide complete education and practical training for hit/stick/wrestling the players to the ground
AIMS FOR PLAYER DEVELOPMENT IN DEFENSIVE METHODS & COUNTER PLAY
Methods of take down techniques as a form of tackling (shoulder control).
Methods of in slowing down the play.
Learning wrap around take downs that save tries.
Methods of hip pivots used to slow the opposition whilst your defensive line is getting ready.
leg & stance positioning to make a positive impact in grappling and pinning
Reduce the penalties given away by learning methods speed pivots.
Learn safety rolls to minimize injury whilst tackling & being tacked by hitting and absorbing the impact .
All forms of break falls/Shoulder rolls/Backward rolls/Side falls used for balance and coordination.
Current team weaknesses are
Injuries caused by incorrect falling from defensive styles
Not slowing the play down.
Incorrect stance for grappling/tackling
taking to long to get off a player.
Giving away penalties
lacking self confidence in ones ability to deliver & motivation
BE PROFESSIONAL !!.
Some points of interest and understanding in defensive play and counter attack that will benefit all who complete this program.
Considerations in being a defender:
Must be a committed defender
Must put the player carrying the ball on ground as fast as possible at the same time slow down the play-the-ball process.
Must have the ability to make all tackles
Must stop your opponent from getting on your weak side.
Must be able to take on a high work-load
Must know methods of locking the ball up with grappling/tackles methods preventing any offload
Must know how to slowing the play down by placing attackers on their backs as often as possible
Considerations in your attack
Encourage tackled player to get to his feet quickly to play the ball, using hip pivots.
Must be able to take the defensive line "on".
Must have mobility/evasive skills from correct stances.
Must have the ability to offload passes and keep your arms free in the tackle
email mail us today and book your club or school in for a special deal.